5 Reasons Your Website Needs A Blog
August 4, 2021

How To Create A Content Calendar
September 17, 2021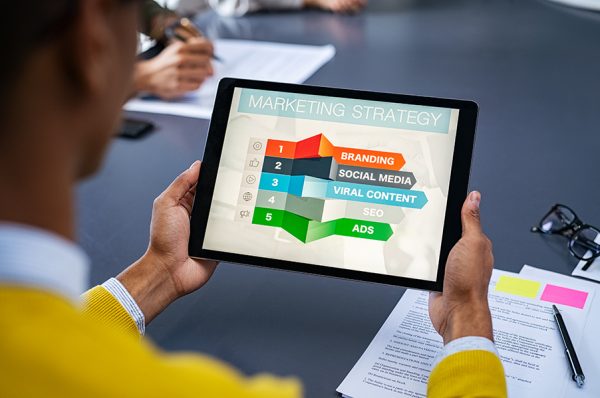 "The internet is becoming the town square for the global village of tomorrow."

Bill Gates
Having grown up in a small town, this reference still rings true – the town square is where everything happens, town gossip spreads, and local businesses surround the perimeter. Similarly, the internet has become the place where strangers become friends, businesses sell their services & products, and everyone loves to discuss the most controversial topics. One key item that helps businesses stick out, whether they are on a town square or online, is marketing! To capture an audience online, digital marketing is a must for any small business.
Likely, you already are competing in the digital marketing world, but do you know what digital marketing is?
We're going to discuss this and several elements that make up the digital marketing world. Knowing and understanding the various components of digital marketing will help you properly utilize them in your marketing strategy. 
What is digital marketing?
Digital marketing is exactly what it sounds like, it is marketing that is achieved through any digital technologies. These technologies include everything from a website, social media profiles, email and automation, to mobile apps, Google Ads, and so much more. While digital marketing can be quite complex, especially the more forms a business utilizes, it can benefit them immensely.
Using the different forms of digital marketing, businesses can collect valuable insight and data to further target their audience. In return, digital marketing can expand customer engagement and introduce new customers to the cycle. 
Common Forms of Digital Marketing
1. SEO
Short for Search Engine Optimization, this is the process of increasing the quality AND the quantity of traffic to your website. It is completed through continuous updates to a website in order to make it relevant. Several components of a website contribute to SEO, including the design, content, and focus keywords. Businesses practice search engine optimization to move their website up in search results on Google, Bing, and other search engines.
2. Pay-Per-Click
PPC is a form of advertising typically used on search engines and social media. Paying for ads to show on search engines, a business has the opportunity to show at the top of search results. Unlike SEO where rankings are earned, these rankings are paid for, meaning the more you want to pay, the higher you will likely show on the results. Selecting keywords and positioning is the most important aspect of PPC advertising.  
3. Content Marketing
Often considered a part of an SEO strategy, content marketing includes creating valuable content to enhance consumer experience. Content marketing includes active blog posts that relate to the business, are informative, and entertaining. Blog posts can include photos and videos that promote services or products that a business sells. They can be a great source of new leads and customers. 
4. Social Media
Utilizing social platforms, businesses have a great opportunity for growth through social media marketing. Participating in social media might sound like a grueling task, but can help any business grow a following and expand their reach. Based on your business, you might select a different platform to focus on. For example, Facebook is great for almost anyone, but Instagram is better if your business is more visual. LinkedIn offers a perfect B2B platform and TikTok is the newest influence marketing tool. Social media is a great digital marketing tool and is free to promote your business. 
5. Email
Many businesses collect email addresses to communicate with their customers, but never do much more with the information. Email marketing is a great tool to send information directly to a mailing list such as new offers, blog posts, product updates, or service presentations. Though many consumers receive 100s of emails a day, standing out among them is key to a successful email marketing plan.
Seek Help From A Pro
While this is not a complete list of all digital marketing forms, these are easily the most popular. Additionally, these common applications can simply be implemented into any business marketing plan. Before diving into too much too quickly, remember, it is best to do one or two items REALLY good versus doing everything poorly.
If you are seeking support with any of these items, or are curious about other forms of digital marketing, contact SharpFinn today. We specialize in small business marketing and have nearly two decades of experience doing so! Let's grab a cup of coffee and discuss your business goals before we put together a plan to take your business to the next level.