Content creation and distribution is one of the key parts in a successful digital marketing strategy. Many small business owners might not have the resources to effectively or efficiently carry out a full plan. However, there is a way for even the busiest of managers to be successful in the digital marketing world.
But, how? A simple content calendar.
To continuously create engaging, relevant  subjects, a content calendar can be a great solution for small business owners. In a world where you are constantly being pulled in every direction, a calendar will hold you and your team accountable to ensure you do not fall behind in your content again. We're here to help you understand what a content calendar is, how you can use it to drive greater results, and lastly, how to create a content calendar.
What is a Content Calendar?
A content calendar is a tool used to schedule, plan, and organize when and where you will publish your content. Typically, these calendars include upcoming blog posts, holiday and event reminders, social status updates, promotion plans, and repurposing or updates to current website content.
While there are various formats and programs a business can use to generate their content calendar, they all typically include the same information. There are five pieces you should be sure to include with each post you put on the schedule. They are:
The date the content will be published. You can get as detailed as to what time it should be published as well. 
What will be published. An image, a video, blog post, etc. 
Where to publish it. Facebook, Instagram, your website, or somewhere else. 
Description. A short description might be used as the meta description, social post message, video description, or whatever the content is about so someone else might be successful in posting. 
Who is responsible for posting. If you have a team that manages your website and social profiles, be sure to include who is responsible for publishing the content.
How Does a Content Calendar Drive Greater Results?
There are two main benefits of a content calendar. One being it will hold you and your team accountable to generating and publishing content. Additionally, a content calendar will show consistency, which can help you rank higher in organic search rankings.
The more you are in front of your audience, the more likely they are to convert. Consistently adding to your website, posting on social media, and working with others in your industry will help your customers "see" you more. If you want to drive the bottom line and see greater results, a content calendar can certainly help you do so.
How to Create A Content Calendar
There are several programs you can use to organize your content and prepare your posts. You can also easily create one using a spreadsheet or calendar to store the data. We recommend a Google Sheet if you go the spreadsheet route so you can share it amongst team members for accessibility. Once you have the program or system you are going to use to organize the information, it is time to put it to use.
A simple way to start producing content is to select one topic that pertains to your business. This topic should be pretty broad as it is going to be the base of content for the entire month. Next, choose to either produce a blog post once every or every other week. Decide what day of the week to publish the blog post to your website and put it on the calendar. Be sure to include who is responsible for writing the post, a short description, and possibly a photo to use with the blog.
From that blog post, you can generate 2-4 social media posts. This can be sharing the actual blog post, a quote or excerpt from it, or a small tip related to the post. Once you have these social posts prepared, spread them out across your calendar to fill in the days. Be sure to include who is responsible for creating the posts and when they should be posted. Another way to save time is to use a scheduling platform to auto post your updates. Hootsuite is highly rated and used by professionals across the world.
If you have an email newsletter or are wanting to start one, you can also put it on your content calendar. An email is also another tool to spread your content and drive traffic to your website. MailChimp offers a free plan for customers who have less than 2,000 subscribers.
Your content calendar could look something like this: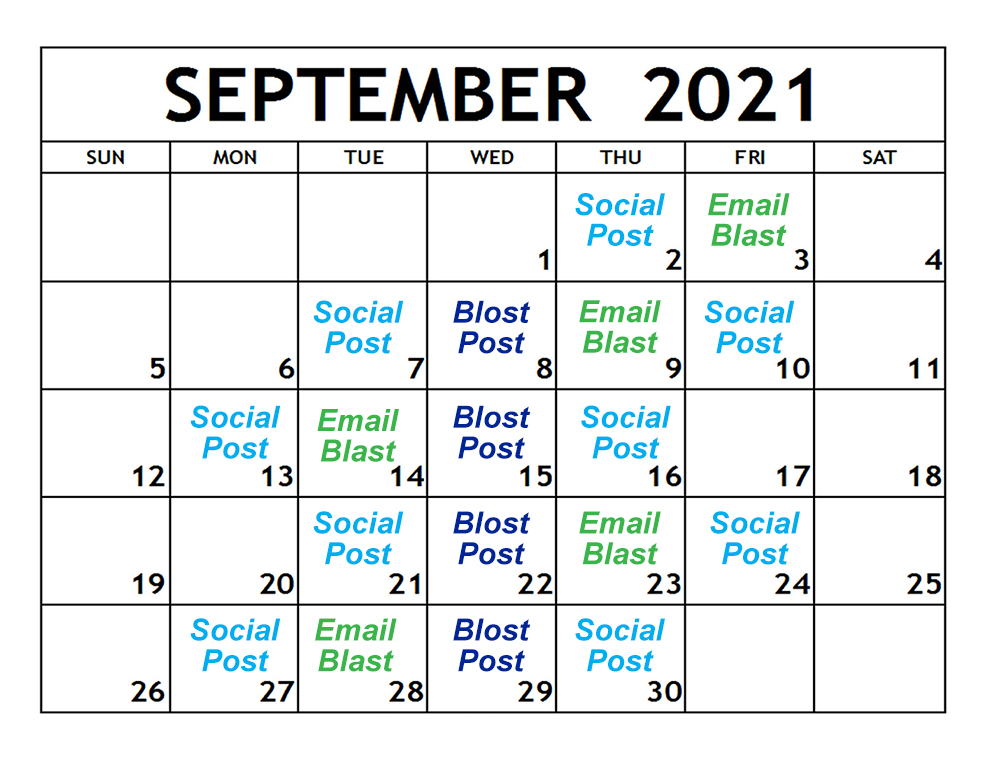 Create A Successful Content Calendar
Using this method, you can create a successful content calendar in a small amount of time. We find it easiest to plan out at least three months. Once you have the plan prepared, creating the content, social posts, and emails becomes easier. The content calendar will also hold you accountable to ensure you are posting regularly and updating your website.
Is your business growing or are you ready to take your digital marketing to the next level? SharpFinn Creative is here for you! Our team utilizes this same strategy for our clients and would love to do it for your business. Schedule a call today and get a FREE quote on how we can help you generate content and share it amongst your customers.